Getting Here by Car
Leavenworth, Washington is an easy day's drive from most major metropolitan areas in the Pacific Northwest.
From Seattle
Highway 2 is the scenic route, but in the winter, check the weather on Stevens Pass before you leave.
Via I-90 is an alternate route, particularly when coming from east or south of Seattle.
From Seattle east to Leavenworth, US Highway 2 delivers another beautiful drive. US 2 follows the original route of the Great Northern Railroad. Dotted along the route between Monroe and Leavenworth you'll find small communities like Gold Bar, Index and Baring. The antique shopping along the way is great. Stop at Zeke's Drive-In in Index for a great roadside meal. The picnic area has lots of tables and the milkshakes are yummy.
From Spokane
Highway 2 is the scenic route, but is 2-lane highway.
I-90 is a more direct route, and provides a better road.
We really enjoy the drive west on US Highway 2 from the Spokane area. It's a lovely drive through wheat fields and small farming communities. Stop at Edna's in Davenport for a hand-dipped milkshake. In summer and fall there are fruit stands and farm stores along the route. The US 2 Route is a few miles shorter than the I-90 route and will get you to Leavenworth in about the same time. The road is scenic and interesting. Another great stop is Dry Falls Interpretive Center just west of Coulee City. Dry Falls is a scenic area of great geological importance. You'll find out about the Great Missoula Flood here. At the interpretive center you'll see fossil relics, pre-history displays and archeological artifacts from local native tribes. It's a fascinating area and always worth a stop for 30-45 minutes.
Alternate I-90 Route
I-90 is the alternative route from either Seattle, west of Leavenworth or from Spokane or Moses Lake, east of Leavenworth. From I-90 you'll have to go north either through Quincy via SR 281 and 28, or on US 97 from Cle Elum. With either route, US 2 or I-90 be sure you check with Washington Department of Transportation for road conditions, possible construction delays and other great resources like pass reports. You can subscribe to pass report emails and get updates on your smart phone. On a trip this past winter we did this. It allowed us to alter our route and avoid a 4 hour delay on Snoqualmie Pass. Check out the Washington State Department of Transportation Winter Driving FAQ's. Subscribe to the department's Twitter feed (@WSDOT) for updates and links to travel information.
By Train
If driving isn't your thing or winter driving is too intimidating, Amtrak has service to Leavenworth. Avoid icy winter roads and travel by train. Fares are very reasonable, about $85 roundtrip Spokane-Leavenworth, $50 roundtrip Seattle-Leavenworth. Only a few hours and you'll arrive in Leavenworth at the new Icicle Station. The westbound train arrives at 6:10 am. The eastbound Empire builder arrives at 8:15 pm. For transportation from the station to the village, make arrangements with your hotel or innkeeper or call Leavenworth Shuttle and Taxi at 509.548.7433. They'll pick you up at the station and deliver you to your hotel in the village for only $5 per passenger.
If you'd like to travel to the Christmas Lighting Festival just for the day and want a unique experience, check out the Alki Tours Leavenworth Snow Train. Each Saturday during the festival, the only daylight train leaves West Seattle for the the ride to Leavenworth. The ride up includes a continental breakfast and live entertainment, including strolling musicians and magicians. You'll arrive in Leavenworth at about 12:30 pm, leaving plenty of time to explore the village, get some lunch and do some Christmas shopping before the Lighting Ceremony at dusk. After witnessing the village come alive with the magical Christmas lights. After the ceremony return to the train and enjoy a catered dinner and more live entertainment. Get all your questions answered at the Alki Snow Train website.
From Canada
From Vancouver, take I-5 to Hwy 2. In the winter, check the weather on Stevens Pass before you leave.
Driving to Leavenworth via the North Cascades Highway is beautiful, but the road is typically only open from May until mid-November. This is a much longer drive. Be sure to check with http://dot.wa.gov for closure information before you go.
From Portland
There are three ways to get to Leavenworth from Portland. All take about the same amount of time.
Take I-5 north, then I-90.
Take I-5 north, then Hwy 2.
Take I-84 east, then US-97.

From anywhere else
Create your own directions to Leavenworth.
What's It Look Like Right Now in Leavenworth?
Check out these webcams:
Downtown Leavenworth
(operated by Leavenworth Chamber of Commerce)
Stevens Pass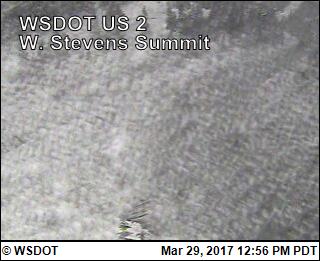 Mountain Home Lodge